Hey look it's fall already!
Also, as it turns out I now work at Ink & Dagger Tattoo Parlour in Atlanta GA! I've been here for about a month now and I absolutely love it here. I miss Off the Map, dearly, but I'm super excited about working at Ink & Dagger. It's still pretty surreal.
I was briefly reunited with the rest of my tattoo family this past weekend at The Paradise Tattoo Gathering. It was an AMAZING show and the venue (Keystone Resort, Colorado) was stunning. I kept extremely busy between running the opening Critique seminar with the incredible Chris Lowe, hosting the first ALL FEMALE discussion panel on Saturday night, and having the chance to meet and hang out with some of my idols! In addition to all that excitement, I spent the rest of my weekend tattooing some wicked cool people! Thanks so much to Jacque, Scout and Jessica! Plus I was extremely honored and humbled to win Tattoo of the Day on saturday for the squid vs. plesiosaur I did on Jacque, as well as best small color for the holy peep tattoo I did on my friend Sarah a few months ago.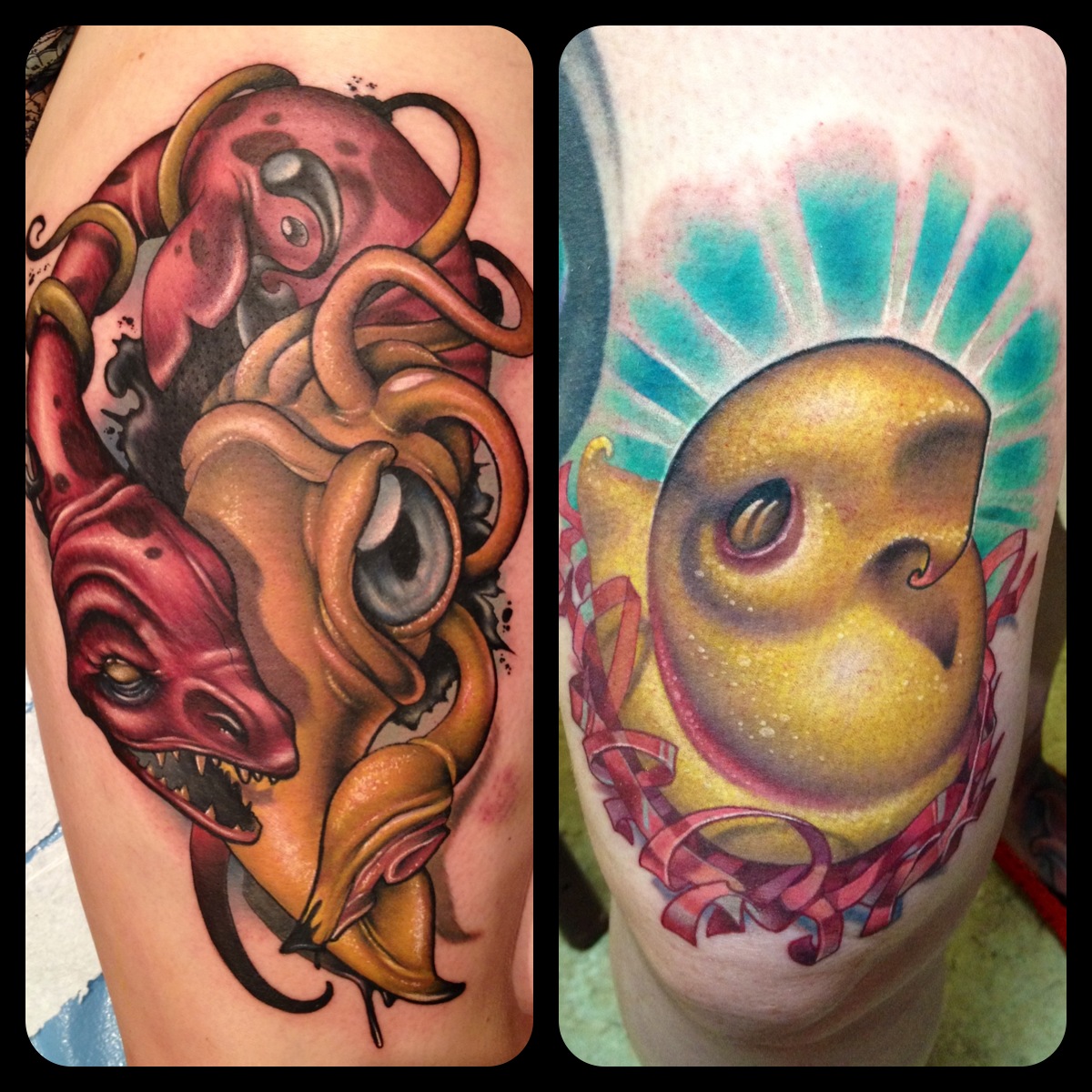 Now I'm back in Atlanta for a few weeks until mid October when I will head over to France to see the Evian Convention! I've never been out of the country before and I'm super excited to be going with my #1 Ho-mance, the amazing Teresa Sharpe! After Evian, I'll be doing a guest spot at Teresa's homeshop the awesome Studio 13 in FT Wayne Indiana! I think I'm booked up for that spot, but I'll post info if I'm not.
Beyond that, I'm becoming well-acquainted with Atlanta's finest restaurants. I fully intend on having full-blown diabetes when I return to Massachusetts for my Off the Map guest spot in December. (fingers crossed)